Analysis
Denmark will hold two elections in 2019 – for the European Parliament (EP) on 26 May and a national election which must be held before June 2019. The EP election will be seen as a secondary election compared to the national one.
The voter turnout during EP-elections in Denmark is above the EU average  (56,3% in 2014) but still very low compared to local and national elections. According to Eurobarometer, the Danes believe that immigration, terrorism and climate changes are our greatest challenges at an EU-level.
The 2019 EP elections will see two new parties: the Red-Green Alliance and The Alternative. They are both represented in the Danish parliament. The Alternative nominated MP, Rasmus Nordqvist, as leading candidate and Red-Green Alliance nominated MP, Nikolaj Villumsen.
The government party, Liberal Alliance, were not elected in 2014 but are running in 2019. They have nominated their Minister for Culture, Mette Bock, as leading candidate and will elect the remaining candidates in January 2019.
If Great Britain leaves the EU before the next election as planned, Denmark will gain an additional seat.
Poll by Norstat from March 2017 (EP Election 2019)
(the number in brackets are the votes from 2014)
Social Democrats – 25,3% (19,1)
Left, Liberal Party of Denmark – 18,8% (16,7)
Danish People's Party – 18% (29,6)
Red-Green Alliance 7,7% (-)
The Danish Social Liberal Party – 6,8% (6,5)
People's Movement against the EU – 6,6% (8,1)
Socialist People's Party – 4,9% (10,9)
Liberal Alliance – 4,7% (2,9)
Conservative People's Party 4,4% – (9,1)
The Alternative – 2,9% (-)
Tak til danskerne for at vise Venstre stor tillid. En tillid, der fordobler Venstres mandattal i Europa-Parlamentet fra 2 til 4. Vi håber inderligt, at vi på grundlovsdag vil nyde samme tillid til folketingsvalget. Vi er helt klar til at kæmpe. Tak, Danmark👍 #dkpol #EP2019 #FV19
Twitter feed video.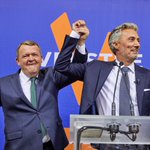 Tak! #dkpol #eudk #ep19dk
Twitter feed video.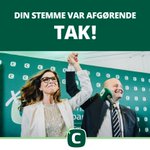 Tusind tak til alle, der har stemt på os 😍 #dkpol #epdk19 #ep19dk #EPvalg2019 #eudk
Load More...