Analysis
Parliamentary elections take place in March 2019:
The 15-year-long right-wing government, led by the Reform party, fell in November 2016 and now looks to regain its position. At the same time, the left-wing led by the Centre party tries to remain in power;
Government coalition has had to replace 8 ministers in 1.5 years.
Political powers:
Two major parties Pro Patria and the Social Democratic Party have begun to lose a significant portion of their popularity. Pro Patria due to going against its right-wing basis; SDP due to their paternalistic policies;
Conservative People's Party of Estonia (EKRE) has seen a growth in support. The far-right national-conservative party, has established itself as the third most popular party (from 8% in Dec, 2016 to around 20% in Aug, 2018).
The results of the August polls are the highest EKRE has ever ranked in a survey commissioned by Estonian Public Broadcasting.
New political movements
Estonia 200: a yet-to-be-party that is currently in its pre-foundation phase;
State Reform Foundation: a group of entrepreneurs is to present a detailed reform plan for the governance structure of the state.
Key election promises so far:
Estonian Centre Party: raise pensions , emphasis on the elderly;
Reform Party: €500 income tax exemption for everyone, reversal of alcohol excise raises;
Social Democratic Party: free care homes for elderly
It is hard to predict the results of the European Parliament elections until after the results of the national elections in March.
My respect and thanks to @Theresa_May for her decisiveness as PM of NATO framework country in 🇪🇪, bringing our countries closer together and for her efforts towards the 🇬🇧's orderly withdrawal from the EU. 🇬🇧 is and will remain a very important partner.
Twitter feed video.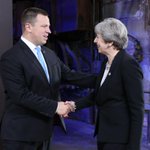 Congratulations to Prime Minister @NarendraModi on the victorious outcome of the elections. Looking forward to deepening our cooperation with India.
Load More...