Analysis
In spring 2019, Finland will hold three separate elections: parliamentary elections (April)  EP elections (May) and for the first time regional elections. The main focus no doubt will be on the parliamentary elections and the EP elections will be considered secondary. This is likely to benefit sitting MEPs. The election period will also be marked by the fact that Finland takes over the rotating six-month EU presidency in July 2019
Candidates will campaign across the country in a single constituency. Finland gains one extra seat from the redistribution of seats following Brexit.
According to Eurobarometer (2018), only 35% are certain to vote in 2019 EP elections, with the fight against terrorism listed as the most important election issue. This was probably  influenced by the Turku stabbing attack, which occurred at the same  time as the survey. Finns also put  climate and environmental protection as key electoral issues, along with immigration, the future of Europe and how to deal with the changing role of the US in global affairs.
According to the  latest polls in August, the opposition party Social Democrats (SDP) is the most popular party in Finland (21,2 %). In second place is the governing centre-right National Coalition party (Kok.) with 19,8 %. The Prime Minister's party Centre (Kesk.) dropped to third position with 17,8 % support and the Greens rose up to fourth place (13,6 %). During the parliamentary term the Finns party (PS) split into two parties leaving the Finns (8,7 %) in the opposition and brought the new party, Blue Reform (Sin.), into the government. Blue Reform's support is now at its lowest with 0,8 %.
1/2 Meiltä on kysytty, onko kuva aito.

Vastaus: Kyllä! Kokoomus ymmärtää, että suurimmassa osassa maata auto on välttämätön arjessa ja työssä. Mutta tulevaisuudessa autoilu tapahtuu puhtaammilla teknologioilla kuten sähköllä ja biokaasulla, ja tähän haluamme kannustaa ihmisiä.
Twitter feed video.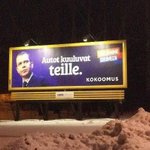 . @MarinSanna: Ilmastonmuutoksen torjunta ei aiheuta kurjuutta. Jos emme torju ilmastonmuutosta tai teemme päätöksiä, joilla ilmastonmuutoksen torjunta vaikeutuu, juuri se maksimoi kurjuuden. #ilmastovaalit #selkärankaa #vaalit2019
"Torjutaan ilmastonmuutosta ja pidetään samaan aikaan huolta Suomen kasvusta ja hyvinvoinnista", sanoo @PetteriOrpo paneelin päätteeksi.

#selkärankaa #vaalit2019 #kokoomus #ilmastovaalit
Load More...