Analysis
On 30 December, the Italian Parliament approved the 2019 Budget Law, following intense negotiations with the European Commission.  The governing parties,  Five Star Movement and The League,  finally accepted a downward revision of the funds required to implement two of the pillars of the draft Budget Law 2019: the reform of the pension system and the introduction of a general basic income. The confrontation over the Budget Law drew the public's attention to the Maastricht criteria and, in particular, the deficit-to-GDP ratio. The dispute saw the Italian government progressively reduce the tone of the political confrontation against Brussels while the Democratic Party and Forza Italia denounced the economic costs deriving from the impact of the proposed Budget Law and the related increase in the BTP-Bund spread.
Compared to the last general elections in March 2018, the polls confirm the continued rise of the League at 31.8% (+ 14.5%), and the 5-Star Movement's fall to 26.1% (- 6,5%). The Democratic Party has seen a slight drop to 17.6% (-1.1%), while Forza Italia's popularity continues to fall, standing now at 8.7% (-5.3%) and Brothers of Italy at 3.8% (-0,5%).
MATTEO SALVINI IN COLLEGAMENTO CON IL TG2.
Twitter feed video.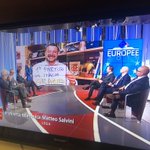 #Salvini: Nessun festeggiamento, ma molta responsabilità.
Permettermi di dire grazie a tutti!
#Salvini: La Lega ha percentuali sopra il 60% in comuni in Provincia di Genova, Modena e altri.
La Lega vola, alla faccia dei sondaggi. Gli italiani votano con la testa e con il cuore.
Penso che vinceremo in molti Comuni dove la sinistra ha governato male.
Twitter feed video.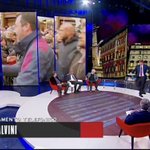 Load More...