Analysis
Lithuania's national governance experienced minor political instability in 2017 as a split within the junior coalition partner, Lithuanian Social Democratic Party (LSDP), resulted in a de facto minority cabinet. The semi-technocratic government, dominated by non-partisans and supported by the center-left coalition comprised of the Lithuanian Farmers and Greens Union (LFGU) and LSDP, enjoyed the first year of its mandate in 2017 after it scraped into government at the 2016 elections. This alliance soon proved to be unstable, and LSDP quit the government in October. Following LSDP's factional split that same month, the governing coalition held only 69 of the 141 parliamentary seats by the end of the year. In Lithuania's mixed voting system, 71 of the 141 members of parliament are elected in one-seat constituencies, with a two-round system requiring an absolute majority of votes.
Presidential elections are scheduled to be held in Lithuania in May 2019. The Presidential elections campaign kicked off in September : current candidates who expressed interest in running include : Vygaudas Ušackas,  Gitanas Nausėda, Ingrida Šimonytė (candidate supported by the centre-right TS-LKD party), current MEP Petras Auštrevičius (supported by the Liberals), current Prime Minister Saulius Skvernelis. Mr Matijosaitis is no longer running as he wants to give his support to Skvernelis.
The President of Lithuania Dalia Grybauskaite will stand down in May 2019 and is among the leading contenders talked about to replace Donald Tusk as president of the European Council.
Results still coming in in Lithuania but looks like might be another European country choosing anti-establishment but not right-wing populist. https://t.co/K7Alg4lCpa
CALL FOR PARTICIPANTS: Security Challenges in the Digital Age: The role of #scienceadvice - 4/5 June, Vilnius, Lithuania.

Check out program & Reg at: https://t.co/lkqTM4oKG7

@EU_ScienceHub @IIASAVienna @DavidMair4 @EU_Commission @NATO #sciadvice @ScienceDiplomacy #scidip
Twitter feed video.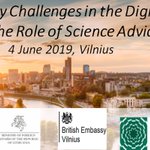 Lituania https://t.co/4I7YoAM3TZ
Load More...