Analysis
The current governing coalition took a record 208 days to form after inconclusive elections on 15 March 2017. Prime Minister Mark Rutte from the Liberal VVD heads his 3rd ruling coalition but it took nearly 7 months to negotiate. He put together a 4-party coalition with the more progressive Liberals (D66), the centre-right CDA (who sit with the EPP) and more conservative Christian Union (whose 1 MEP sits in the ECR group). This gives the government a precarious one seat majority in the fragmented 13-party parliament. Rutte had previously governed with the Labour party (PvdA) but they suffered heavy losses in the 2017 elections.
Following the departure of the 73 British MEPs, the Netherlands has gained 3 extra MEPs for the 2019 elections.
"We will write the future with our youngest generation" - @TimmermansEU! #TourdeFrans

🇭🇺 Budapest
🇵🇹 Porto
🇫🇷 Next stop: Paris!
We gaan de records breken.
In de provincies,
In de Eerste Kamer,
In het Europees Parlement. 💪
https://t.co/mtTApoH8MC
Maak van 2019 het jaar van het Klimaat! Als we willen dat er iets verandert, moeten we in actie komen. Doe mee aan de Klimaatmars op 10 maart. Stem voor het klimaat op 20 maart. Stem GroenLinks. 🍀

#voorverandering
#groenlinkscongres
Twitter feed video.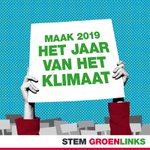 Load More...