Analysis
The current governing coalition took a record 208 days to form after inconclusive elections on 15 March 2017. Prime Minister Mark Rutte from the Liberal VVD heads his 3rd ruling coalition but it took nearly 7 months to negotiate. He put together a 4-party coalition with the more progressive Liberals (D66), the centre-right CDA (who sit with the EPP) and more conservative Christian Union (whose 1 MEP sits in the ECR group). This gives the government a precarious one seat majority in the fragmented 13-party parliament. Rutte had previously governed with the Labour party (PvdA) but they suffered heavy losses in the 2017 elections.
Following the departure of the 73 British MEPs, the Netherlands has gained 3 extra MEPs for the 2019 elections.
Bedankt voor jullie stem! 🌹

#ItsTime om lid te worden https://t.co/yMQsl1tTiT
Twitter feed video.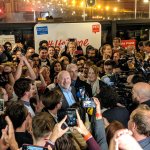 De eerste voorlopige uitslagen/exit polls komen binnen. We gaan voor een #GreenWave!

🇦🇹 @Gruene_Austria > 13,5%
🇩🇪 @Die_Gruenen > 22,0%
🇮🇪 @greenparty_ie > 15%

#EP2019
Wij gingen op donderdag al, maar in veel 🇪🇺-landen zijn vandaag de verkiezingen. We hopen op mooie uitslagen! #greenwave

Veel succes voor onze vrienden van @groen @Ecolo @Die_Gruenen @Gruene_Austria @EELV @miljopartiet @SFpolitik en iedereen van de @europeangreens
#EP2019
Load More...